New Year, New Website Makeover
Sharon Muniz
January 14, 2019
Comments (0)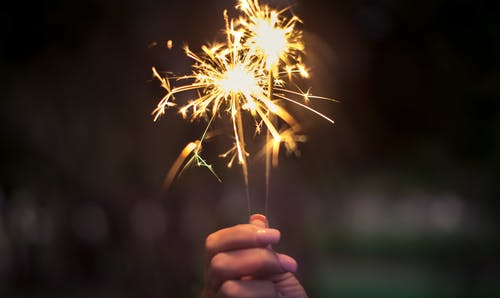 New Year, New Website Makeover
Your business website is akin to your professional appearance as a person. You wouldn't attend a business meeting in your pajamas, or in moth-eaten and musty clothes.  You may choose to identify with vintage wear, but it would be neat, clean and smell nice! Your super-trendy threads are worn by design. They are a considered and conscious style choice, not just whatever you dove into in the laundry basket, or dug up from the basement.
So, new year, new makeover – let's give your digital presence a face-lift!  You may choose to initiate a complete overhaul, or just attend to all the clutter that has accumulated, like hidden folders or old price lists.  Start your business year off with a bright and shiny new website. It's good for your stress levels (less jumbled to do lists), and GREAT for your business!  
Initial considerations
Our previous article suggests considering your audience, technology and experience before you update your website.  Here's a quick set of bullet points to check:
Review who your preferred target audience is, and that your message is crafted for that market segment.  

Know what's hot in your industry.  Educate yourself on the latest (useful) trends, technological advances and tools in your area of expertise.

Begin and end with user experience.  If something doesn't have a reason for being there, drop it.  If it isn't useful, drop it.
Always consider WHO you've created your website for, and WHY it exists.  It's not for a secret Easter bunny hunt, it's aimed at meeting a client needs in order to grow your business.
Do-over
Your original website is ancient and decrepit, out of date, and not bringing in any new celebrities.  So, you've decided that a "do-over" is best. In that case, do your homework before you build your site structures.  Select the web designer, web developer and web platform that works best for you and your business.
A web designer is responsible for how your website looks and how it is used by visitors to the site.  A web developer makes the designed vision a reality, they make it work!  The web platform is the fundamental bedrock your new site is crafted on.  If you sell products online, you will need a store application.  If you provide services, you may require an integrated booking system function.  The selected web platform should contain the critical functionality you require.
If you're a Do-It-Yourself (DIY) kind of person, have a look at these reviews of website builders:
Top 10 website builders (2018)
If building websites is not your core business, concentrate on your expertise and let us support you with your website updates.  NCN Technology has experts in both web design AND development. We'll help you craft a visually appealing website that provides a great experience for your clients.  What's more, we understand the many web platforms that are available, and can help you choose what is best for your business.
Declutter
Clean out the old storage folders and articles stacked in the cobweb-covered attics of your website.  If you have hidden web pages that are empty and not being used, delete them! You can create a new and relevant folder or page when you need to.  Hoarding unused folders and pages ruins your carefully structured web hierarchy, and confuses the purpose of where you store your content.
Give your website back-end a thorough dusting at least every three months.  Clean up any unused and out-of-date content. You'll be grateful you did when you next update!
Be present
Ensure you have up-to-date and relevant content on your website.  It's not very reassuring to clients to find only ghostly articles from five years ago.  It would feel similar to entering an abandoned building. Let potential clients know you are at home! Switch on the lights, decorate a little.  Update your website with recent photos, articles, promotions, the latest news, or even a constant feed from your social platforms.
At the very least, add or update recognizable and dated content every month.  If you're too busy, hire someone to do it for you. There is a burgeoning trend of online specialists who keep your social profile and online presence alive and kicking.   
Get the basics right
Text formatting, spelling errors and font choice to are the basics of user experience.  If casual website browsers can't read your site, or notice an error, they are likely to cringe and leave.   A potential client is relying on your professional expertise. If you didn't bother to have your content spelling checked, or ensure its neatly aligned, why should they hang around?  There is a google directory full of alternatives.
Get the basics right, build rapport, make your web guest's experience a pleasant one.  If you don't happen to be a grammar detective, copy editor or website designer, hire one.  Or at least ask a few friends or family members to review your site for you.
If a link is broken, and leads to an internet waste-land, your client may also continue into the wild blue yonder.  With the sheer volume of content available online, nobody has time for broken links. If a browser isn't instantly gratified, they may move on, along with your sale.
Consistent branding.  Ensure your current logo is the ONLY logo.  You may have been through a few logo iterations that weren't updated.  Check every little nook and cranny of your website settings. Logos can be added to the main webpage, footer, online invoicing, automated message responses and even error pages.  Ensure every instance is congruent with your current branding. If you have specific business colors, ensure the exact Hex, RGB or CMYK values are used in every, single, instance.
SEO (Search Engine Optimization).  Yes, it is a real thing.  It's a very important thing! SEO is how your website is found on Google or other search engines.  If you rely on garnering new traffic to your site, it's best to hire a professional who can setup the necessary settings in a jiffy.  If you have the time and motivation, there is extensive information available on the internet on how to go about SEO. Be sure your reference sources are knowledgeable, effective and efficient.  You don't want to waste time working on anything that doesn't measurably increase your website traffic.
The numbers. Review what is working and what isn't on your site.  Track your site statistics to evaluate whether your business is getting the most traction through blog posts, a particular social media platform, or perhaps through special email promotions.  Analyze and assess where your strategy is inspirational, and where it isn't. Enhance and nurture your areas of strength, and re-evaluate where the effort is exceeding the results. Spend your time wisely, and ensure it is building your business, and not just unnecessarily sapping your time and resources.
The human factor
Go undercover.  Use new eyes. Put yourself in the sport sneakers, or comfortable hospital crocs, or beach thongs of your target client.  Imagine your perfect client, name them and create a person. Once you've pictured Roxy, Antonio, Joe or Agatha, click through your entire site as that person.  Do the graphics appeal to who you are? Is the content relevant? Does the message speak to you? Is it a chore to read the website or useful and engaging? Are the stated facts verified? If not, make a plan, get it updated.
Connect.  Your clients are PEOPLE.  Build valuable relationships with them through newsletters, onsite interactions, or on social media platforms.  Create places for your clients to comment, add their voice, or get new insight into your business or industry. If you don't like writing, hire a blogger.  If you don't like tracking social media posts, hire a social media expert. It's extremely common nowadays, and is good business! The online connections will do wonders for helping your clients feel worthwhile and included.  
Reward yourself
Once you've successfully planned out your magnificent new web strategy, and achieved your beautiful new web page, reward yourself!  A new website makeover is exciting and inspiring! If you make it a pleasant experience for you and your team, you are more likely to keep up the good business practice of maintaining your website.  Your website wardrobe will be red carpet worthy, regal and timeless – by conscious design.
If you'd like some expert advice, get in touch.  We'd like nothing more than to help you herald in a new year with a fabulous new website!