Why Images Are Crucial to Websites and Marketing
Sharon Muniz
May 20, 2019
Comments (0)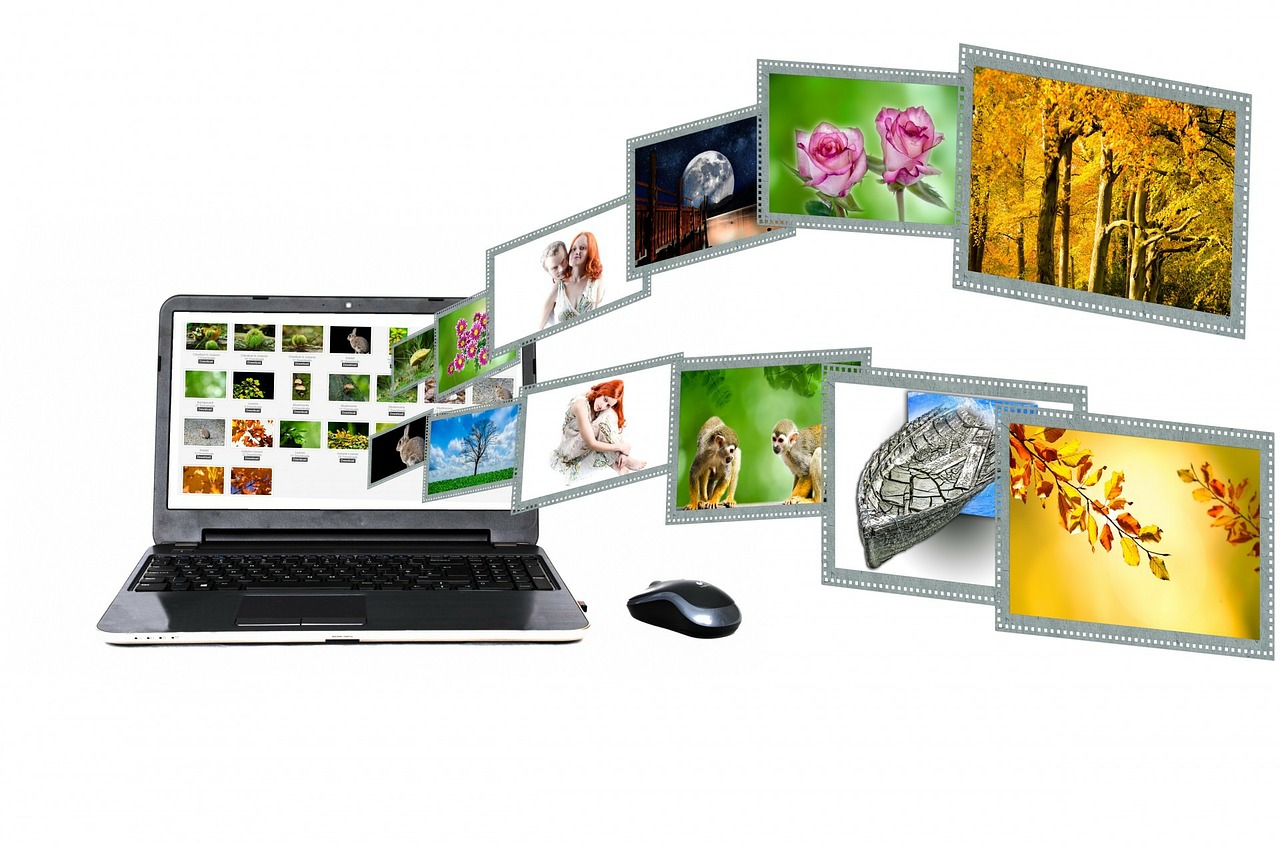 Why Images Are Crucial to Websites and Marketing
There is an old adage that a picture is worth a thousand words, which seems to hold true even in today's fast-paced world. Infographics, images, and digital graphics are important to your marketing strategy. Let's look at the impact images will have on your business.
Images and the Human Brain
Humans are particularly responsive to visual cues such as pictures. The power of images lies in the general makeup of our brains. We're wired to notice, remember, learn from, and respond emotionally to visuals. Nearly two-thirds of people have identified themselves as visual learners.
Research has shown that people have an attention span of fewer than nine seconds, that's less  than a goldfish! On average, when asked to recall something three days hearing it, people remember only 10% of the information/details. However, adding a picture can improve recall to 65%, thus making images far more important than ever, especially on social media.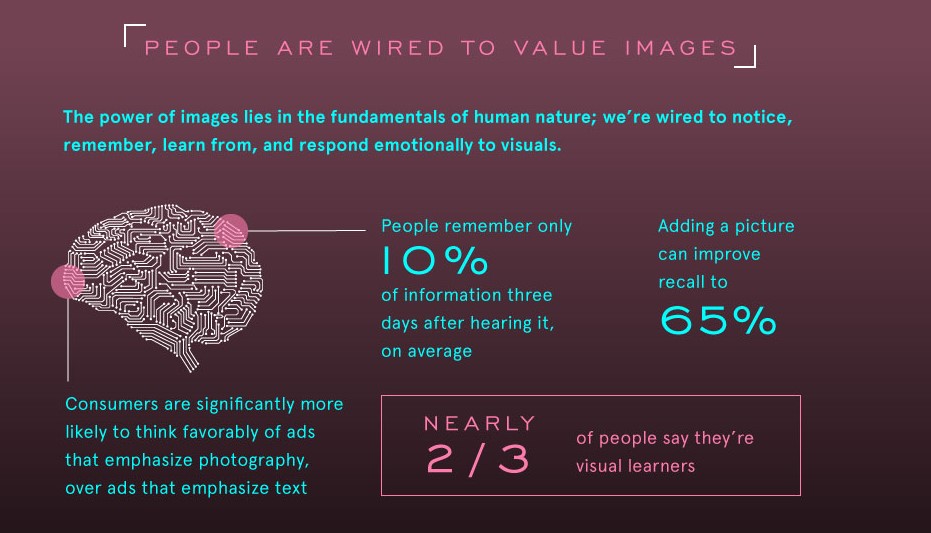 Figure 1 MDG Advertising
Effects of Images on Business
Why is it of interest to you, from a business perspective? Because consumers are significantly more likely to think favorably of advertisements that emphasize photography, over those that are predominately text. Images can incite feelings of happiness, excitement, sadness or curiosity among other things. We can remember a famous brand just by looking at their image/logo, and can even reminisce decades into the past, simply by viewing an old picture. This is because a large part of the brain is focused on visual processing, allowing us to process images at an incredible speed. The human brain can recognize a familiar object in milliseconds, making images the perfect way to communicate in today's crowded digital environment.
6 Reasons Why Images Are Important
There is quite a bit discussion about the value of images and why they should be a part of your marketing strategy. Here are some reasons why images are important:
Articles with images get 94% more total views.

Press releases are more likely to be viewed when a photo and a video are included (increases views by over 45%).

Consumers are 60% more likely to consider or contact a business when an image shows up in local search results.

In an eCommerce site, 67% of consumers say the quality of a product image is "very

important" in selecting and purchasing a product.

Photos receive a 37% higher level of engagement over text on Facebook.
Visual Indicators
Images can also warn us or give us clues about what's to come. Magazines understand our inability to ignore powerful images. Along with powerfully emotional headlines, pictures that capture stunning moments in time can have an arresting impact and even change our mood instantly.
Images On Your Website
Images are powerful on their own, but when mixed with text they become even more impactful. Audiences consistently respond well to the combination of words and visuals. As noted above, articles with relevant images get 94% more views, on average, compared to articles without images.
Adding a picture to an article or a post can add several advantages to your website.
Images convey emotion about what you are talking about, in a powerful sensory-based way, and give additional depth to your content.

Good images make people want to read the article.

If your

visitors can relate to and connect with your images, they are likely to return.

Images can create a personality for your website and help your brand stand out from competitors.

Images give your visitors and readers a break from all the text content.
To further maximize the effect of images in articles, optimize all accompanying captions, metadata and alt text.
Images In Your Social Media
Social media is a crowded space and using images is a great way to grab attention. A social media post accompanied by a photo is ten times more likely to get engagement. This is because our brains respond so quickly to images and color, in comparison to other types of information. For example, images on Facebook receive 20% more engagement than videos and 352% more engagement than links.
The images selected need to be of interest to your target audience. Find out what visuals affect responsiveness through research.  Although there are several sources for royalty-free stock images but it is advised to check that competitors aren't using the same ones. You can add some purchased images or hire a photographer to provide professional pictures that are unique to your business.
Consistency Builds Identity
Consistent branding is important to building your business. When you post on a variety of platforms(website, LinkedIn, Twitter and Facebook), follow branding guidelines so your audience will identify those images with your business. Remember to be consistent with images, colors, and patterns across platforms, for brand recognition.
Images Effect Online Searches
A key benefit of images often overlooked is their online search impact. Visuals are highly valued by both search audiences and search engines themselves. Consumers respond strongly to images in search results. Thus, search engines understand this preference and increasingly prioritize visual-heavy content. Optimize your website using high-quality images to give your business a competitive edge.
Images the Right Way
Pictures are powerful and when used in the right way they can influence your readers and customers. The images must flow cohesively with the content, enhancing the branding. Otherwise, they may end up leaving a bad impression.
If you'd like expert advice on adding visuals to your website, contact NCN Technology by email consulting@ncntechnology.com or phone 703-757-2209.
Sources
 http://time.com/3858309/attention-spans-goldfish/
http://www.fromdreamstolifestyle.com/why-a-picture-is-worth-a-thousand-words/
https://medium.com/@onlinelogomaker/why-images-are-so-important-to-social-media-b9411dd678a8
https://www.jeffbullas.com/6-powerful-reasons-why-you-should-include-images-in-your-marketing-infographic/