NCN Provides Technical Website Support
Sharon Muniz
November 14, 2022
Comments (0)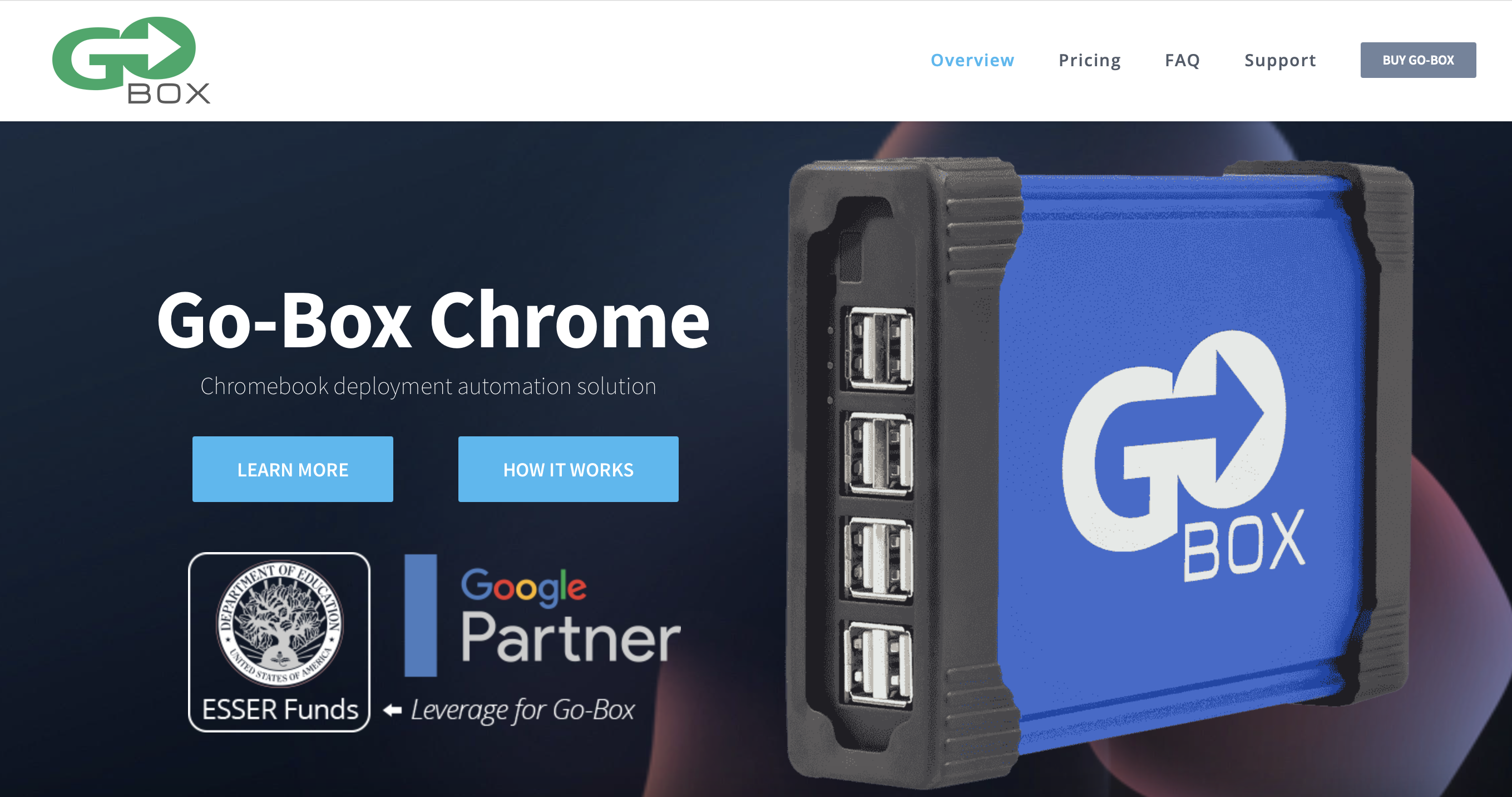 NCN Provides Technical Website Support
NCN Provides Technical Support to a Company That Makes Managing Chromebooks Faster and Easier for Schools
NCN was thrilled to be brought in to provide third-party support for Go-Box.com. Go-Box Chrome is an exciting solution that helps users to automate the enrollment and configuration of large qualities of Chromebooks. It is considered an essential fit for all 1:1 Chromebook programs. Go-Box.com users love that they can save tons of time by automating every Chromebook process that can be done with an external keyboard and mouse.
Go-Box has amazing automation features that make life easier for school IT admins and commercial service providers by simplifying large Chromebook tasks, including the huge undertaking of initial device enrollment and configuration. Go-Box.com is compatible with all Chromebook models.
As one might imagine, the infrastructure on such a smart, high-capacity platform is intensive. While the platform provided smooth service for its thousands of daily users, the developers behind the Go-Box.com website struggled with keeping up with increasing user demand. Several festering issues threatened to hamper the site's growth. This was when Go-Box sought out the expertise of the NCN team to address budding issues with website performance.
We could identify crucial points that weren't being addressed in a satisfactory way to help the company to achieve its goals as far as growth, user accessibility, and profit as soon as we had a consultation with Go-Box leadership.
NCN Moves in to Provide Support to Go-Box.com
After a vetting period, it was decided that NCN would deliver fixes and enhancements to the Go-Box site based on the points prioritized by Go-Box developers and leadership. Priorities identified at the start of our relationship included:
Consultation
Analysis
Design
Development
Testing
Installation
Maintenance of software
The NCN team had the necessary capabilities to manage site backend development, maintenance, reporting, and other core tasks. In addition, we were able to focus on optimization by identifying areas that could be improved through updates, patches, and more. Next, take a look at the tasks included in the scope of NCN's work as a third-party support provider for Go-Box.com.
Website core updates
NCN is proud to be a full-service WordPress development provider. Our team of developers was eager to look behind the scenes of Go-Box.com's code to ensure that WordPress functionality and performance were being optimized. We found that many updates had been overlooked since the launch of Go-Box.com. We swiftly got to work on getting the site updated based on all current standards. In addition to ensuring that various features and functions on the website could now display interactively for all users as intended, these updates also helped to make the website more secure and compliant. This instantly increased Go-Box.com's trust score on the Internet.
Plug-in and theme updates
As with all websites, Go-Box.com was stuck in a perpetual spiral of digital decay because it wasn't being monitored and updated on a dedicated basis. Our developers began by ensuring that all plug-ins and themes were fully updated. This helped to boost website performance and security. In addition, it ensured that all pages could load quickly for users.
Updates and security patches
NCN developers also spent time verifying that all updates and security patches were being pushed through to allow Go-Box.com to function properly. This is an important step in the optimization of any website because security directly impacts a website's search ranking. Websites that cannot be verified as being secure will often be blocked by search engines. Users may also encounter "warnings" when they try to access these sites. Even websites that are permitted by search engines may trigger a user's antivirus software if all security patches have not been added.
Database cleanup and optimization
This was one of our favorite aspects of our role in optimizing Go-Box.com. While Go-Box.com had a great interface, a messy backend system was making it hard for the company to effectively utilize the data being collected during interactions. As a result, there was no opportunity to optimize the website from the front end. What's more, the client was paying more than needed for storage due a clunky data-management system. Our developers performed a database cleanup with optimization.
Apache Web server updates
After digging into Go-Box.com's server side, we discovered that Apache Web server updates were not being performed regularly. Our team was able to go through any backlogged updates to get the site current.
MySQL database updates
NCN developers are certified experts in the MySQL open-source relational database management system. We were able to optimize the way Go-Box.com was storing and utilizing data by verifying the relationships between tables.
PHP updates
NCN's developers also confirmed any PHP updates required by the latest version of WordPress. In our experience, many websites degrade with each new WordPress release if there isn't a plan in place for tending to PHP updates. We were able to help Go-Box.com stay ahead of this perfectly preventable problem.
Application and server monitoring
One of the services we're excited to offer to companies like Go-Box.com is consistent, ongoing monitoring of applications and server performance. We're able to implement around-the-clock monitoring that alerts us to issues that could be preventing users from accessing a website. When applications cause pages to become unusable, we're able to jump in right away to fix the issue with code changes, patches, and more.
Bug fixes
We instantly ran diagnostics to detect any bugs that could be compromising both the safety and performance of Go-Box.com's. The average website could have dozens of bugs affecting different pages and applications at any given time. Having a system for fixing bugs as soon as they're detected is vital for preserving the performance of a site.
Performance monitoring and optimization
We wanted to be able to tell Go-Box.com leadership which features on the website were adding value. We did this by setting up metrics for performance monitoring and optimization. Our process ensures that pages load quickly, interact with users in a responsive manner, display elements accurately, and store data properly.
New features
It was our pleasure to inform Go-Box.com leadership about new features that could optimize their website's performance. Our developers are able to implement new features for everything from video streaming to user payments.
Feature enhancements
NCN was also able to provide advice regarding how Go-Box.com could enhance existing features to keep up with evolving digital trends. We presented data about feature upgrades and enhancements that could help the site to perform better without the need for major structural changes.
NCN is thrilled to play a role in Go-Box.com's growth. Our team was able to deliver results on time, on budget, and within the scope of what Go-Box.com's leadership requested. Reach out to NCN today if it's time to optimize your website!